Echigo-Tsumari Art Triennale/Echigo-Tsumari Art Field
Echigo-Tsumari Art Triennale is one of the largest art festivals in the world and is held once every three years in the Echigo-Tsumari region in Tokamaichi City and Tsunan Town of Niigata Prefecture since the year 2000. This is the origin of the concept "humans are part of nature", which has become the overarching concept for every program taking place in the Echigo-Tsumari Art Field. Approximately 200 artworks by artists from all over the world are dotted across the 760km2 area of the Echigo-Tsumari Art Field.. Performances and entertainments from all over the world are presented on the unique stage of Echigo-Tsumari, set amongst artworks and terraced rice fields.
---
Echigo-Tsumari Kamigo Clove Theater Open Schedules of 2018
Echigo-Tsumari Art Triennale2018
51 days, Sun 29 Jul to Sun 17 Sep 2018 10:00-17:30
Admission Fee: Please present your Art Field Passport or Kamigo Clove Theatre-Hong Kong House Common Ticket at 500yen
Echigo-Tsumari Art Field 2018 autumn
8 days including Sat 22, Sun 23,Mon 24, Sat 29, Sun 30,Sept , Sat 6, Sun 7, Mon 8, Oct 2017
Time・Price Information not available yet
The exhibited artworks are available to see during the open hours only.
---
Artwork *Permanent collections
・"Kamigo Clove Theatre logo on the signbord" designed by Katsumi Asaba.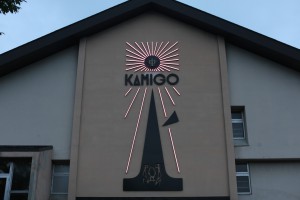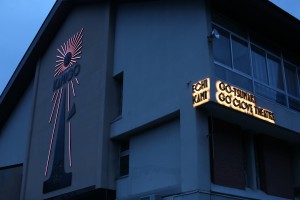 Photo:Gentaro Ishizuka
The ancient oracle bone script for "Go" of "Kamigo" shows two people facing one another over food which resonates with the aims of the Theatre.
The neon sign outside glows at night, giving the closed school building a luminous beacon.
・Nicolas Darrot "The Kamigo Band – Songs for the Seasons"
This musical theatre production presents "The Kamigo Band – Songs for the Seasons", a group of animal puppets performing the music while a white cloth flies above them like snow.
*Theatre available to public from 7/29/2018. (The picture is a scene from the production)
・Tsuneyuki Toyoda (renovation design)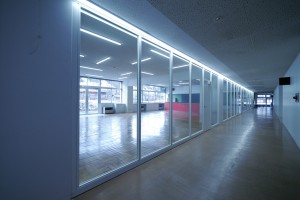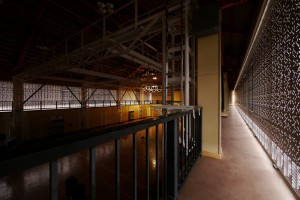 Former Kamigo Junior High School was renovated to a platform for performing arts with simple but flexible and sustainable design.