Kamigo Clove Theatre was created as a project of the Echigo-Tsumari Art Triennale, and the artworks are displayed in a classroom and gymnasium that still retain the atmosphere of the former junior high school.
The artworks can be viewed during the Art Triennale, and are also open to guests of the residence.
The artworks available for viewing vary depending on the time of year.
Artworks
Asaba Katsumi《Text design, Kamigo Clove Theatre》
The carapace of Kamigo "郷" (township) represents people facing each other on either side across from food, which is exactly what Kamigo Clove Theatre aims to be. The exterior signage glows with neon lights in the evenings, adding a festive glow to the abandoned school.(2015-)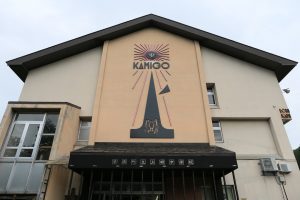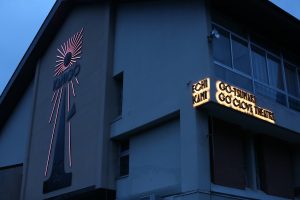 © Photo by Ishizuka Gentaro
Nicolas Darrot《The Kamigo Band – Songs for the Seasons》
Automatic puppets in the shape of living creatures perform music on a stage in the form of an old folk house. The music is an original composition based on interviews with local residents.(2018-)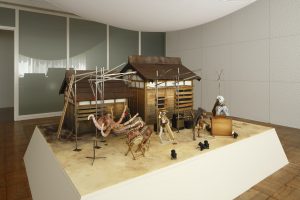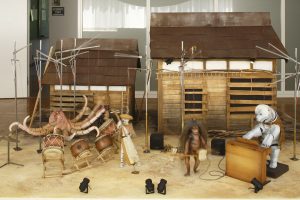 © Photo by Kioku Keizo
Performance Works
Artists from Japan and abroad are invited to the temporary theater in the renovated gymnasium, where they work from production to performance as artists-in-residence. For information on performances, please visit the Echigo-Tsumari Art Triennale website.
Nibroll《A journey without distance》
An uncertain journey based on Kenji Miyazawa's vivid short story "The Lilies of Gadolf". The entire building of Kamigo Clove Theatre was used as the stage for this circular performance piece.(in 2022)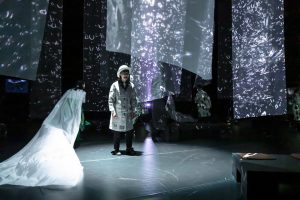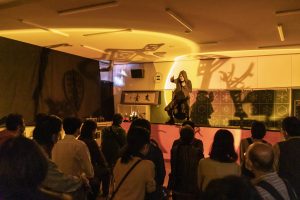 © Photo by Nakamura Osamu
SAMPLE / Matsui Shu《Proud Son》
The first production in six years of "The Proud Son" (premiered in 2010, winner of the 55th Kishida Kunio Drama Award), a sketch of the present day in 2018 with a new cast, interwoven with the air of the mountains and rivers of Echigo-Tsumari.(in 2018)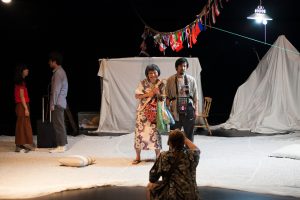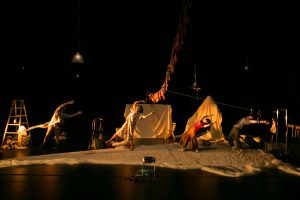 © Photo by Yanagi Ayumi
Neon Dance 《Puzzle Creature》
Internationally active dance company Neon Dance is known for its collaborations with diverse genres such as video and music. Kamigo Clove Theatre presented a work inspired by the world of Shusaku Arakawa + Madeline Gins. Following the example of Helen Keller, the creative source of Arakawa and Gins, the dancers used Japanese and English sign language to speak to the audience in a language beyond words through three-dimensional music, lighting, and physical expression.(in 2018)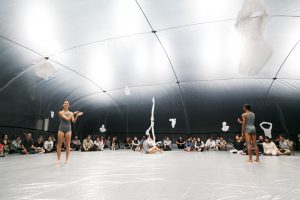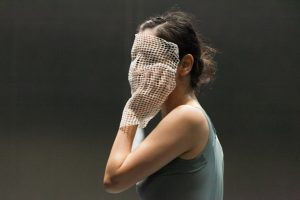 © Photo by Yanagi Ayumi