Echigo-Tsumari Kamigo Clove Theatre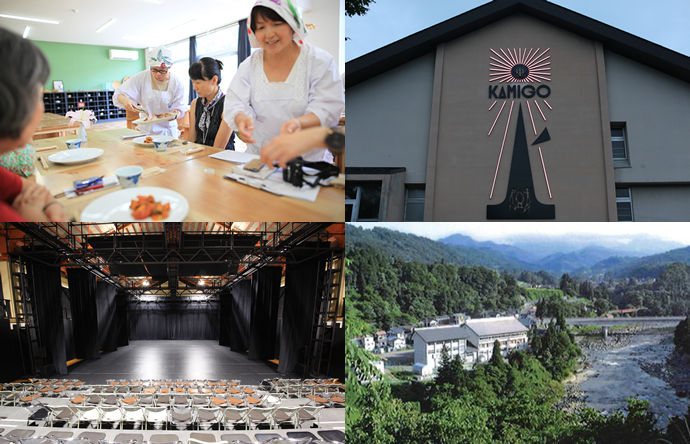 Photo:Gentaro Ishizuka
Kamigo Junior High School, in Tsunan Town, Niigata Prefecture was closed in 2012 and renovated into the Kamigo Clove Theatre, a facility combining a theatrical stage and residential space to serve as a base for performing arts during the Echigo-Tsumari Art Triennale 2015.
Artists can stay surrounded by abundant nature, devise and present their performance.
This facility aims to explore possibility of the performing arts in the region and thus become a platform for exchange between the city and the region.
We welcome theatrical, dance, and music companies or groups, whether professional or amateur, to make use of this facility for residencies, except during the festival.
※"Kamigo Clove Theatre" is named after cloves, a spice which goes well with Tsunan pork, one of the local delicacies, and with a punning nod to Shakespeare's Globe Theatre.
>Gym(Theatre)
>Residence
>Restaurant
>Artwork
Kamigo area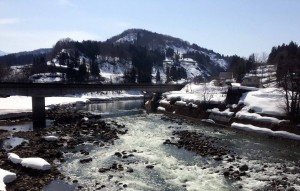 Located at the southern tip of Niigata prefecture, surrounded by mountains and river terraces, the Kamigo area in Tsunan town is known for having one of the heaviest winter snowfalls in Japan. It is nestled at the border between Nagano and Niigata prefectures, where the Chikumagawa river becomes the Shiannogawa river.
The area once called Kamigo village (abandoned on 1955) has been inhabited and cultivated since the Jomon era. As of June 2015, 1475 residents of 478 households live in the area and despite continuing depopulation, local men and women are filled with sprit and energy that helps support the Theatre's operation.
List of past participating artists
○Sample / Shu Matsui
Residence: July 2015
Performance: 26, 29. 31 July and 1 August 2015
"Hensel and Gretel – I won't go to forest anymore."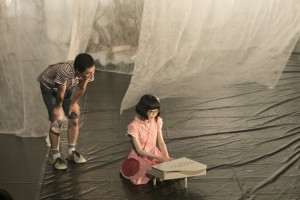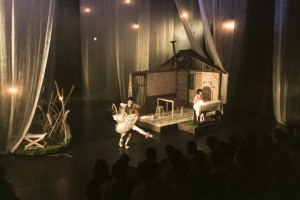 Photo:Akihiko Okada
○Nibroll
Residence: August 2015
Performance: 15, 16 August 2015
"Real Reality"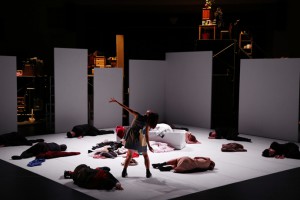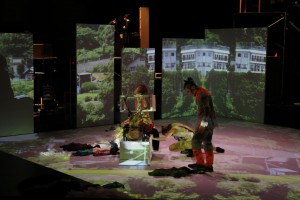 Photo:Ayumi Yanagi
○Yubiwa Hotel
Residence: August – September 2015
Performance: 5, 6 September 2015
"Heavenly Love III"
(c/o Okura Snowshed)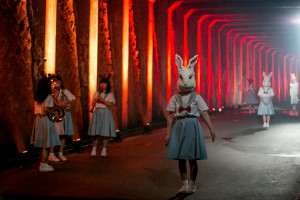 Photo:Hiroshi Hatori
Echigo-Tsumari Art Triennale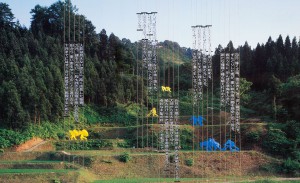 The Echigo-Tsumari Art Triennale is an international art festival held every three years since 2000. Using the Echigo-Tsumari region as its stage, it is the world's most extensive art festival. The overall objective of the festival is to employ art as a vehicle for revealing the latent values embedded in the region, enhancing their appeal and spreading them to the world, thereby building a path towards revitalization. The idea that "humans are part of nature" is the fundamental concept for the festival's activities and artworks, and its pioneering approach to deepening regional exploration and community building through art has been applauded both within and beyond Japan.
About Echigo-Tsumari Art Field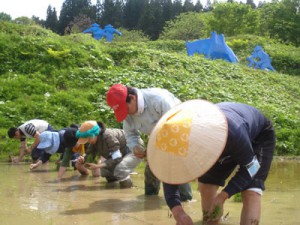 Community building in the Echigo-Tsumari region is not just the triennale. It is an ongoing project throughout between years of the festival. With support from local people, artists, volunteers, we present the charm of the place in collaboration with those individuals and organisations with different backgrounds and expertise. Building upon over 200 artworks from previous festivals dotted around the satoyama landscape, we will continue our effort to increase visitors to the region by organising special exhibitions at museums as well as unique and seasonal events featuring local delicacies, agriculture and traditional rituals. The Kamigo Clove Theatre is expected to contribute to this endevour of enhancing the latent value of the region.